Established in 2016, The Pharmacy is a locally owned, independent pharmacy. Our primary focus is our community and the patients within. Our friendly pharmacists and technicians are vested in Florence and desire to seek overall quality care and efficient, affordable healthcare solutions. We love our customers. You are not merely a number, but an important part of our pharmacy family. The Pharmacy teams strives daily to make a difference in the lives of the Pee Dee region and beyond. We extend to you comprehensive medical reviews, medication management services, immunizations, medication adherence packaging, compounding, and much more!! If you're tired of being a number and want to make a difference, replace the "i" in illness with "we" and you have wellness. At The Pharmacy, we aim to take your wellness to the next level.
Meet the Pharmacists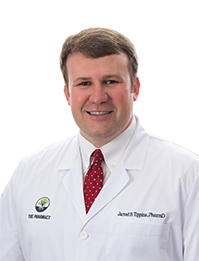 Jarrod B. Tippins, PharmD
Upon graduation, Jarrod began his pharmacy career at CVS pharmacy where he was an Emerging Leader. Although he enjoyed and learned from his experiences there, Jarrod shortly transitioned from the fast paced corporate world into his ultimate passion, independent pharmacy. Jarrod was recognized as the Distinguished Young Pharmacist of the Year in 2015 by the South Carolina Pharmacy Association.
In 2016, Jarrod had the pleasure of giving back to his community and living his ultimate dream by opening THE Pharmacy on Hoffmeyer Road in Florence.
As a pharmacist, Jarrod is able to be an active part of his hometown community and serve his fellow Pee Dee citizens. Jarrod recently served as the South Carolina Pharmacy Association Pee Dee Region Director for the past 9 years and is the Pee Dee Pharmacy Association President. He is also a member of the National Community Pharmacists Association.
In his spare time, Jarrod enjoys traveling, USC sporting events, and other aspects of the community including local theater and philanthropy projects. Jarrod is currently a board member of Lake City Community Theater, treasurer of Florence County Disabilities Foundation, member of Florence Rotary Club, and participant of McLeod Fellows Program. He recently participated in the Florence School District One Fellows in Education program and served on their Career and Technology Education Craft Advisory Committee.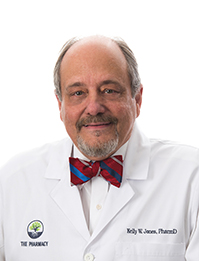 Kelly W. Jones, PharmD, BCPS
Kelly Jones has spent most of his professional life teaching physicians, physician assistants and nurse practitioners the art of pharmacotherapy. He now brings that expertise directly to the patient at THE Pharmacy. He is a graduate of the Medical University of South Carolina College of Pharmacy where he also studied Family Medicine education. He and his wife, Lisa, adore their children and grandchildren. Kelly and Lisa also have a love for music and appreciate the arts!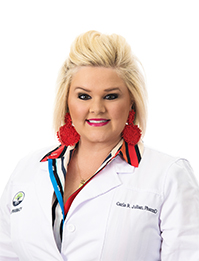 Carla R. Julian, PharmD
Born and raised in Bennettsville, South Carolina, Carla is a life-long resident of the Pee Dee. Carla graduated cum laude from the University of South Carolina College of Pharmacy in 2009. Carla focused her career in the fast-paced, fluid world of retail pharmacy. Carla began her career in independent pharmacies in the Pee Dee Region. Prior to graduation, Carla accepted a position with Walgreens and continuously advanced her career within the Walgreen Corporation, opening the first specialty pharmacy for Walgreens in SC. Most recently, Carla joined a fellow graduate, Jarrod Tippins and team at THE Pharmacy in Florence, SC. She feels right at home and is happy to be back to her independent pharmacy roots. She enjoys making difference in her community and directly impacting the lives of others on a daily basis. While pharmacy may be Carla's job and license, her true passion is her family to whom she is devoted beyond measure. Every hour Carla is not working is spent with her husband, Marsh, her precious children, Redding and Grace Livingston, and her black lab, Sullivan.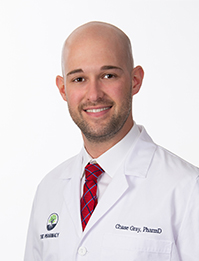 S. Chase Gray, PharmD
A native of Florence County, Chase graduated pharmacy school from South University where he was a member of the Rho Chi Pharmacy Honor Society. Chase began his career at CVS Pharmacy where he was a Pharmacy Manager for over 6 years. He was also a recipient of the Paragon Award. Thankful for the wisdom and the relationships that were built in the corporate world, Chase is looking forward to serving his community at THE Pharmacy. When Chase is not at work, he enjoys traveling, hunting, fishing and spending time with his family and wife Morgan.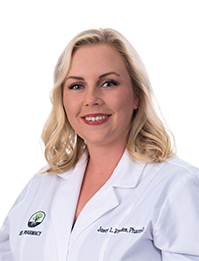 Josey L. Rhodes, PharmD
Josey graduated from the College of Pharmacy at the Medical University of South Carolina in 2016. She began her career at CVS in Hemingway where she served that community for 5 years. Although grateful for her relationships and experiences in the retail setting, she is excited to embark on her new journey at THE Pharmacy. When Josey isn't working, she enjoys serving her church and community as well as spending time with her husband, Jordy and son, Robert.